I would like to say to everyone to follow and live their dreams.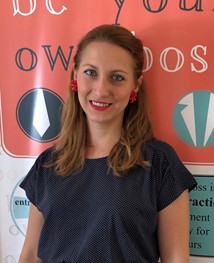 When did you come to Italy?
I came to Italy in autumn of 2008 for internship through AIESEC followed by new job since January 2009.
Could you tell us what persuaded you to come to Italy?
During my studies in Slovakia, I participated in different university programmes for shorter period abroad, such as UK, Portugal, Spain so I was open to new opportunities abroad. Therefore, once I graduated, I decided to gain some working experiences abroad during the internship and in addition to improve my Italian language. After the internship I decided to stay here as I was offered very interesting job with EU projects.
What you are currently do? (working, studying, searching work, etc.)
I work as the Project Manager of European projects in consultancy company in Sicily, however in this moment I am on maternity leave.
How do you feel in Italy? How did the Italians receive you? Did you build valuable relations with Italians? Do you fell understood by Italians?
I must say that I feel very good in Italy. I have already family here as my husband is Italian and we have two kids. Most of my friends and colleagues are Italians as well and many of them are really good friends of mine. I feel lot of similarities between us, in fact we share the same ideas and values.
Do you have empathic relations with Italians?
Yes, I have many friends that are Italians. Actually, as mentioned before since the beginning I found a lot of similarities between Sicily and Slovakia, especially in terms of values. Most of time I don't feel as foreigner at all.
What do you like most about Italy?
People. People are really amazing, full of energy, positiveness and always seeking to help you. Ok and of course nice sunny weather, delicious food and sea bathing every weekend in the summer! 🙂
What do you miss most about your country?
Of course, I miss my family and friends the most, but apart from that I really miss Slovakian mountains and hiking, walks in the nature.
What are the difficulties you had to face when you arrived in Italy?
Mainly the language, as back in time I wasn't fluent in Italian and usually it was quite challenging to communicate in English here in Sicily twelve years ago. For example, I remember one medical visit where my friend had to be present to help me to communicate with doctor. But AIESEC staff and also my colleagues at work helped me a lot to manage and solve out everything I needed.
What advice would you give to those who would like to leave their country and move to Italy?
First of all, try to find a job prior to departure and as regards the accommodation, nowadays it's easy to find some temporary one. Once you are in Italy your colleagues and friends will surely help you with more suitable accommodation. Travel a lot across the whole country as it has a lot to offer and enjoy all kinds of different meals prepared in different cities and regions. Yet another advice, start studying Italian language even now, so you have some basics. I would like to say to everyone to follow and live their dreams. Italy is really an amazing country with great asses that are people that will do the maximum to help you to feel better.