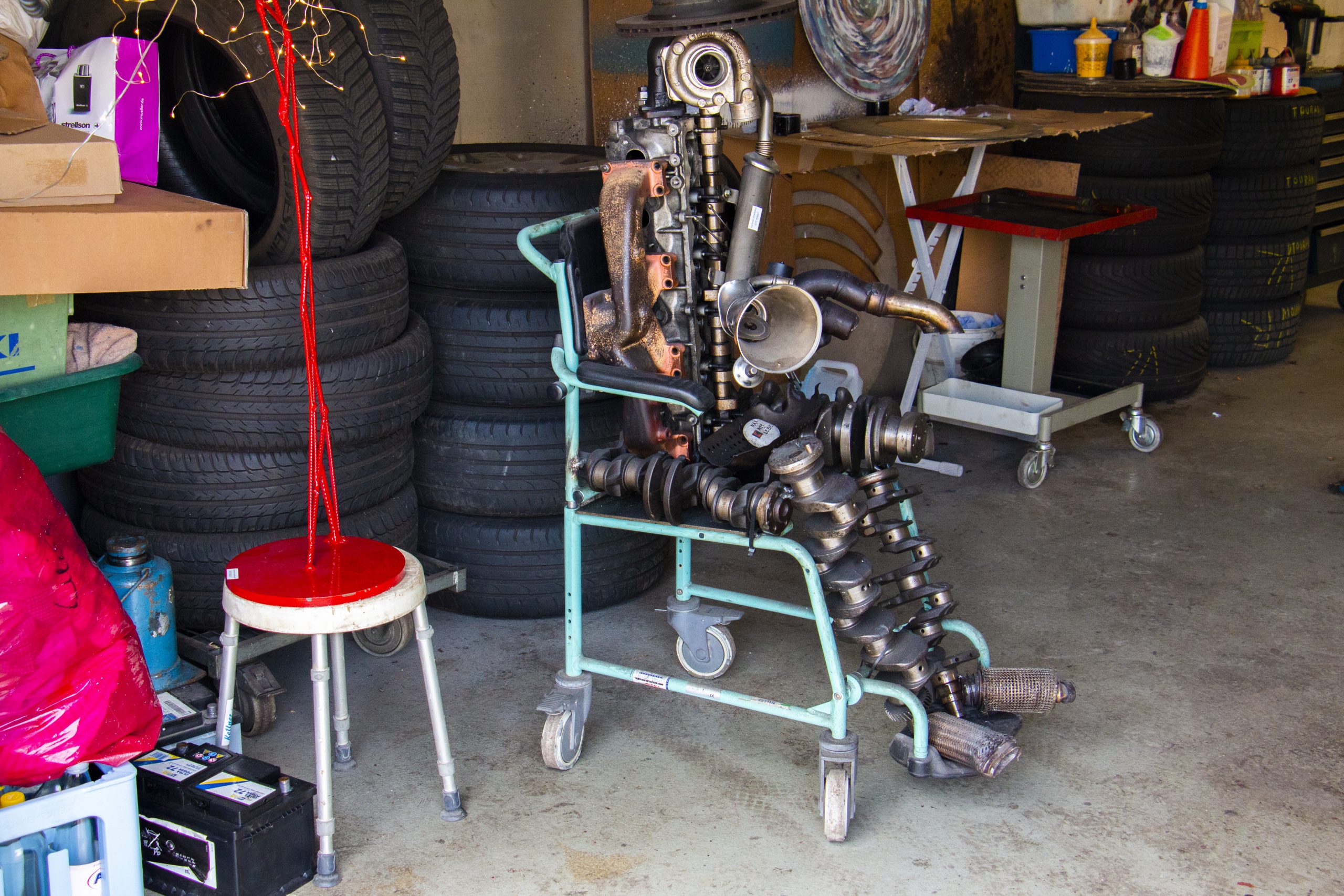 When you see his photos and metal sculptures, you would probably never expect him to earn his living as a car mechanic and yet Mahmoud Khorosh repairs cars full-time and at the same time uses his art to help people in Afghanistan.
At the age of 18, the native Afghan left his home, a small village six kilometers outside Kabul called Shina, after passing his high school exams and arrived in Germany after spending some time in France and Australia. After starting to study mechanical engineering, he began working in a car repair shop to earn money for his family in his homeland. He tells us that he didn't have much trouble integrating after fleeing to Germany:
Your birthplace is a pure coincidence. You can't determine that and you can't be proud of it. I feel sorry for people who don't understand that. And that's why I don't feel like a foreigner anywhere.(…) The border is an imaginary line. We have drawn it and every person must know that. The studied people know that we came from Africa and Jesus was a foreigner (laughs).
"Because of the war in Afghanistan, I was trying to make money quickly to help my family. The country was exploding. That's why I chose this profession. I actually came to Germany as an artist and photographer, but you can't do that much with it here," Mahmoud tells us while having tea in his workshop, which almost seems like a gallery when you enter.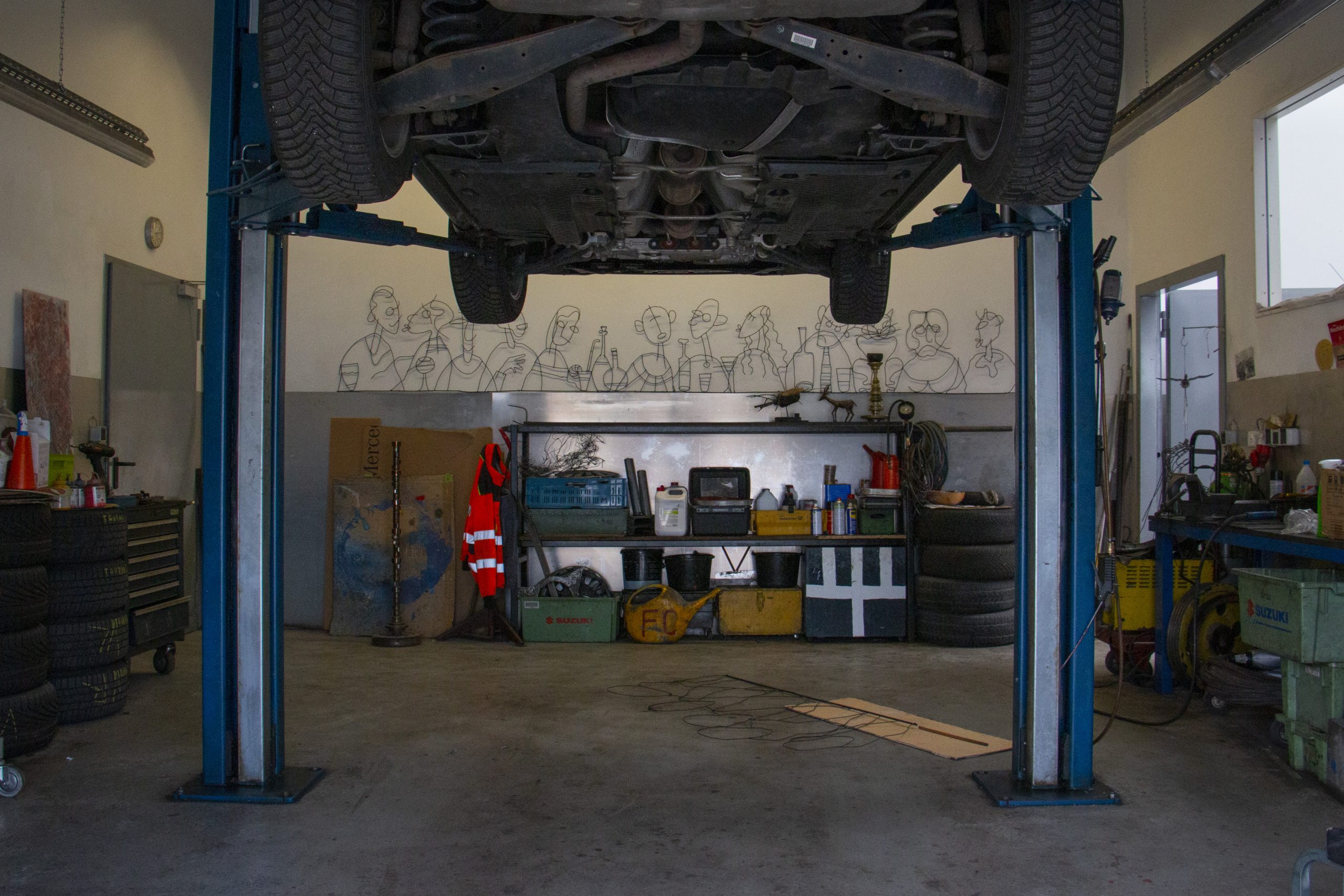 There are works of art everywhere, both started and finished, directly under a car on the lifting platform. In the pavilion of the car dealership there are also surreal metal works in the shape of fish or dragonflies next to beautiful vintage cars from BMW and Porsche, so that you don't even know what your gaze falls on first. Yet the difference between these exhibits is not as big as one might first suspect, because Mahmoud works mainly with discarded car parts for his sculptures, so that, for example, the tank of an old Harley Davidson functions as the main component of a crane sculpture. Mahmoud also shows his photographs in exhibitions as well as in calendars and books he has printed himself. His main focus is on the people and landscapes of his home village, and for good reason:
I use my art and my photos as a way to show that Afghanistan is a very beautiful country.
But art is by no means just a hobby or a sustainable method of metal scrap recycling for Mahmoud. He considers his art to be a way to make people aware of the terrible circumstances in Afghanistan, even here in Germany.
"The Afghans have gotten to the point where they are killing each other without knowing why they are doing it. And NATO has been there for 21 years now and nothing is happening," Mahmoud says. In order to do something himself, Mahmoud and some friends founded the association "Gemeinnützige Hilfe Afghanistan e.V. – Wiederaufbauhilfe" in 2002, which has set itself the task of providing help to the people in Shina through local and, above all, personal support, and which is financed not only by donations but also by the proceeds from Mahmoud's art.
I repair cars here, that's how I earn my money. Everything I earn through art goes 100 percent to my association.
In the book, "Das starke Dorf – Chronik eines Wiederaufbaus," the association explains, "The key to the success of the reconstruction project was not the size of our budget, but the lasting partnership." With projects ranging from wells and garbage collection campaigns to schools and wash houses, Mahmoud has been working with the association for almost 19 years now to ensure that circumstances, at least in a small part of his home country, improve noticeably.
However, Mahmoud does not see the lack of green spaces or schools as Afghanistan's biggest problems. For him, the violence and the peace he thought he had lost is the reason he fled Afghanistan and the reason why he is fighting today with his art and with his association to improve these conditions. And he is in good spirits:
I'm very optimistic when I see the young generation going out on the streets on Fridays.(…) My wish is that all people work together and that we don't just have democracy on paper, but experience democracy.
Many thanks to Mahmoud Khorosh for the great interview and the insight into his work!