I try to make this world a better place, through my activity.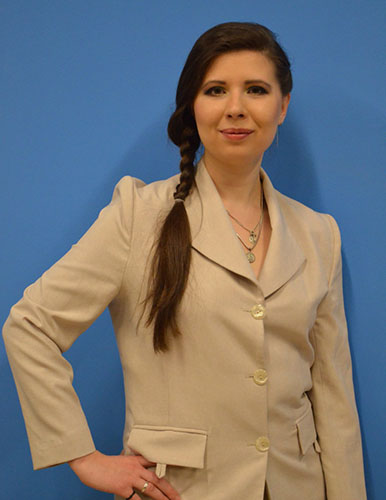 PLEASE GIVE YOUR FULL NAME, CAN YOU GIVE YOUR AGE?
Nadiia Moroz-Olshanska, 29 years old
WHERE DO YOU COME FROM?
Ukraine, Połtawa
WHEN DID YOU COME TO POLAND?
In December 2012
ARE YOU PLANNING ON STAYING LONGER, FOR EVER?
Hard to tell
HOW DO YOU LIKE IT HERE? (HAVE YOU SEEN ANY PLACES IN POLAND? WHERE DID YOU LIKE IT BEST?)
I travelled a lot in Poland, especially the South. I like Łemkowszczyzna.
WHAT PEOPLE HAVE YOU MET? WHAT DO YOU THINK OF THEM?
I met all kinds of people, but each one of them gave me something positive or progressive, even if some encounters wheren't too interesting. I think in recent years the Poles have begun to complain more about various things and this, to me, is a little sad. That's why, I try to make this world a better place, through my activity.
WHAT DO YOU DO, CURRENTLY? DO YOU STUDY? WORK?
In regards to my previous answer – I try to do the things I like, so that I don't complain about life and find happiness in every moment. It doesn't mean I don't do difficult things, not so pleasant or complicated. But I see why I'm doing it and that eventually it gives me pleasure. My favourite quote about life "Life is too short to drink a bad coffee, watch a boring film, meet with someone you don't want to, or do that which doesn't make you happy." Currently I work at the Mass Show Foundation, which organizes many cultural events in Cracow, in Poland and abroad.
HOW DO YOU FIND LIVING, STUDYING, WORKING HERE?
I like to travel and Poland gave me such an opportunity. I like to study and I've found studies in Cracow, which make me happy. Life and work are interesting. It's not always easy, but interesting.
WHAT MADE YOU COME TO POLAND? STUDIES, WORK, POLITICAL SITUATION IN THE COUNTRY?
It was another adventure in my life, which my close friend talked me into. But the official reason was to get Master's degree.
WHAT DOES YOUR DAY LOOK LIKE? CAN YOU SAY IN A FEW SENTENCES?
I wake up when I want to, or early, when I have some meeting/journey/project/other task to attend to. Despite being sometimes tired in the morning – I try to smile to the world. Usually I have a huge number of meetings, phone calls and emails to answer, as well as other activities. After finishing typical workday (about 9pm), I work on writing various projects till late night, because, for me, night is the time for creativity. That's why I dislike early waking up (unless it's for the flower market, which I love and for it I'm ready to wake up at 6am 😊 ). I spend a lot of time in the journey (often behind the wheel), but driving with the husband and friends – it's an opportunity for me, for a peaceful conversation. If I have a day off – I do what I like: I read books by my favourite authors, I watch movies, I travel, I cook, but I still go to sleep very late.
WHAT ARE YOUR DREAMS, INTERESTS? WHAT DO YOU LIKE DOING MOST?
I love to travel and I want to visit as many countries as possible. But I also have a dream to show my home country to as many friends as possible, from this good, unknown and interesting side.
I like food tourism and to try new things, and whatever I like best, I like to cook later at home. I love reading books with bedazzled storyline, watch interesting movies/shows on youtube.
WHAT IS CAUSING YOU MOST TROUBLE?LIVING IN A FOREIGN COUNTRY, COMMUNICATING WITH PEOPLE OR SOMETHING ELSE?
When I don't have the support of people who surround me. Because everything else I'll manage 😊
ARE YOU MISSING SOMETHING FROM YOUR HOMELAND?
The country, the real one, from the childhood, with goats, chickens, turkeys, geese, walking in the forrest and the old orchard full of apples. I don't miss my homeland, currently, that much, but sometimes I get nostalgic after my little homeland of childhood.
WHAT WOULD YOU RECOMMEND TO THE POLES IN CONTACT WITH FOREIGNERS?
To not be afraid of it. To the foreigners you are likewise something strange and unknown. Only through rational dialogue and two-sided willingness to communicate, will there be a possibiliy to create something new, wonderful and beautiful. And I know, what I'm talking about, because I have a Polish husband and thanks to our alliance each one of us benefits and develops their opportunities